Kids Object lesson for Thanksgiving – Cornucopia -
Show the children a cornucopia or harvest basket full of fruits and vegetables. Hold up various items and discuss why we are thankful for God's provision. Include in the bottom of the basket items remind you of other things that might be overlooked by some people (A picture of family or friends, medicine, money, a small bottle of rain water, a small bible, etc.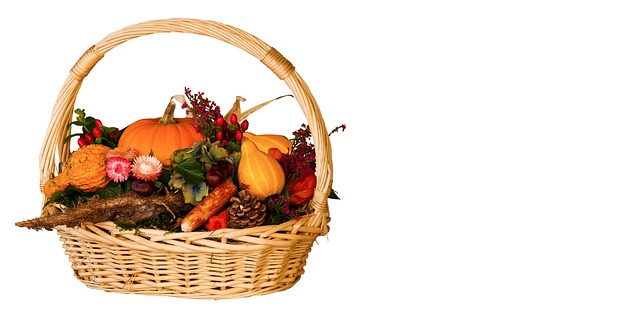 Object lesson items: A cornucopia basket (or something similar) with fruits and vegetables and various items that the children might not think of when we think of thanksgiving.
Children's Thanksgiving talk / object lesson: Good morning Children! Today, I have something very special to share with you – a basket that overflows with the goodness of God. Some people call this basket a cornucopia? It's not just an ordinary basket; it's a symbol of God's amazing provision and the abundance of blessings in our lives.
(Show the cornucopia and hold up different items one by one.)
Look at these colorful fruits and vegetables! Which one is your favourite? Each one is like a little gift from God. The apples are crunchy and sweet, the grapes burst with juiciness, and the carrots are crisp and fresh. God provides us with delicious food to nourish our bodies and to keep us healthy.
(Hold up a picture of family or friends.)
Now, what do we have here? A picture of our loved ones! Families and friends are incredible blessings from God. They bring us joy, love, and support. Take a moment to think about someone you're thankful for.
(Show a small bottle of rainwater.)
This little bottle contains rainwater. Isn't it fascinating that even rain is a blessing from God? Now, sometimes we don't like rain but it is very important. It waters the earth, helps plants grow and provides us with the water we need to live. Let's thank God for the rain!
(Reveal a small Bible.)
And here we have the most precious book of all - the Bible! God's Word is a guide for our lives. It teaches us about His love, mercy, and the incredible gift of salvation through Jesus Christ. We are truly blessed to have the Bible.
(Hold up medicine and money.)
These two items might seem ordinary, but they are extraordinary blessings from God. Medicine that our parents give us helps us when we're not feeling well, and money allows us to provide for our needs and help others. Let's thank God for His wisdom in providing these practical blessings.
(Take a moment of silence for reflection.)
So, kids, as we gather around this cornucopia of thanks, let's remember to appreciate the big and small blessings in our lives. Sometimes, it's easy to overlook the everyday miracles, like a sunny day, a warm hug, or the smell of fresh air. God's provision is all around us.
Children's Prayer: Thank you, God, for your abundant provision. Thank you for the love of our families and friends, for the rain that nourishes the earth, for the wisdom in the Bible, and for the practical blessings of medicine and money. May we always have grateful hearts, recognizing and appreciating the many ways you care for us. In Jesus' name, Amen!
Copyright 2023 Sunday Children's Focus - Feel free to use this or share this but please give credit to this web site. Blessings - A.H.