Children's Sermon / Sunday School lesson: Fishers of Men

Sunday school talk
/
Sermon idea: Luke 5:1-11 Fishers of Men
Show the children a large fishing net or use a blanket as a pretend fish net. Explain how they used to fish with nets and how Jesus said his disciples were to be "fishers of men" or "fishers of people."
Have the children take a corner of the "net" and move about "catching" some people and bringing them in to your group. (Alternative: Consider making a "net" by having some of the kid's link arms together.")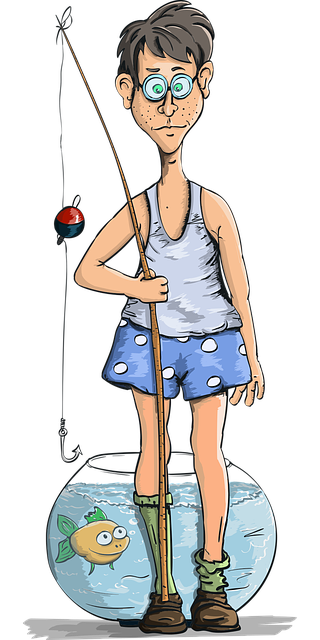 Objects needed: a large piece of netting or a blanket that you can use as a pretend fishing net.
Complete children's sermon / Sunday school lesson introduction: Evangelism
Good morning children! The bible reading that we have for today is about Jesus telling his disciples that he is going to make them "fishers of people." One day Jesus met some fishermen named Peter, James and John. After doing a wonderful miracle of catching many fish, Jesus called them to follow him. He said that he would change their jobs from being fishers of fish to being fisher on men /people! Instead of catching fish Jesus wanted them to start catching people! He wanted them to tell others about Jesus and bring them along as followers. Instead of bringing fish into the boat he wanted them to bring people into the church and into the Kingdom of God. I want to show you what I mean. I need a few of you to come over here. (Have some of the children stand a little ways away from the group.) Let's pretend that you don't know anything about Jesus and his love. OK. Now let's have some more of you stand over here. (Have another little group stand off to the other side) Let's pretend they don't know about Jesus and his love either. Now the rest of us here will be the "fishers of men." Some of you can take the corners of this blanket. Perfect! Now let's go and do some fishing. Follow me. Hey! Look over here. These people look a little lost. I think we need to bring them into the Kingdom of God. Let's come around them and bring them into the church. (Scoop them up and bring them front and center.) Great. However, there are still some more people over there that look like they are on the outside. Let's go and fish for those people. ("Net" these people and bring them in so you are all together as a big group.) You did a good job being fishers of people.
Although we don't use a real net to bring people to Jesus he does want us to go out and "catch" people and bring them in the Kingdom. There are many things we can do to be good fishers of people. We can show love and care to other people. We can tell them about Jesus and his wonderful love. We can pray for them. And we can invite them here to church where they can experience some of the love and joy of the family of God. With the Holy Spirit's help they just might decide to be followers of Jesus, just like the rest of us fish!
Children's Prayer: Dear God, as followers of Jesus help us to be good fishers of men. Help us show your love by our words and by our actions so that many people would be brought into your Kingdom. Help us to be good fishers of men like Peter, James and John. Amen!

Copyright Sundaychildrensfocus.com Andrew Hewlett Feel free to use this talk on Sunday morning but please give credit to sundaychildrensfocus.com and consider linking to this site. Blessings, A.H.