The Rich Man and Lazarus

Luke 16:19-31

Money won't get you to heaven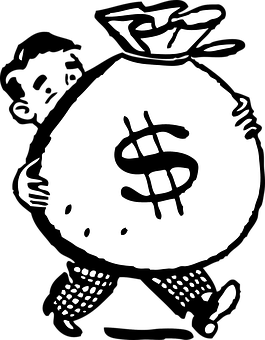 Children's Sermon idea: Bring in tools, instruments or other items and demonstrate their use. Highlight how they work very well for one use but not at all for another use. Show the children some money and explain how it can be used to purchase various item but that it doesn't work at all as a means of getting into heaven.
(Note: Theologians are divided on the central meaning of the Rich Man and Lazarus. For this reason and because I'm speaking to a very young audience I'm avoiding a discussion about heaven and hell. Please forgive me for using more theological leeway than usual.)
Object lesson items: Suggestions: Guitar, toothbrush, money (bills and coins)

5 Minute Kids Sermon:
Good morning children. This morning I brought in some things to show you. I have a guitar, a toothbrush and some money. A guitar is very good a making a nice sound. (Play some chords.) But what if I wanted to use it to hammer a nail into the wall like this. (Pretend to hold the guitar and use it like a hammer.) That wouldn't work at all! It's good for playing music but it doesn't work at all for hammering in nails. Look at this toothbrush. It works well for brushing my teeth. (Give a short demo.) However, what if I wanted to use it for a microphone? (Give a demon and pretend to speak into the toothbrush) Do you think it would work well? No! Of course it wouldn't work. Now look what I have in this little bag. It's money! Money is very useful because we can use it to buy things we need. We can use it to buy clothes, food, and gasoline for our cars. But what if I tried to use it to buy my way into heaven. Do you think it would work for that? No, of course not.
In our bible reading today Jesus told a story about a rich man who had so much money he could buy anything he wanted. The sad part about the story is that he seemed to think that his money would get him into heaven. He was very wrong and he ended up far away from God. Money can buy all kinds of good things but it won't get you into heaven. It just doesn't work for that.
Children's Prayer: Thank you for the money that we have that can buy food, clothing and other important things, but help us always to remember that money can't get us into heaven. Help us always to trust in your son Jesus for that.
Copyright Sundaychildrensfocus.com Andrew Hewlett Feel free to use this story on Sunday morning but please give credit to Sundaychildrensfocus and consider linking your church web site to this site. A.H.